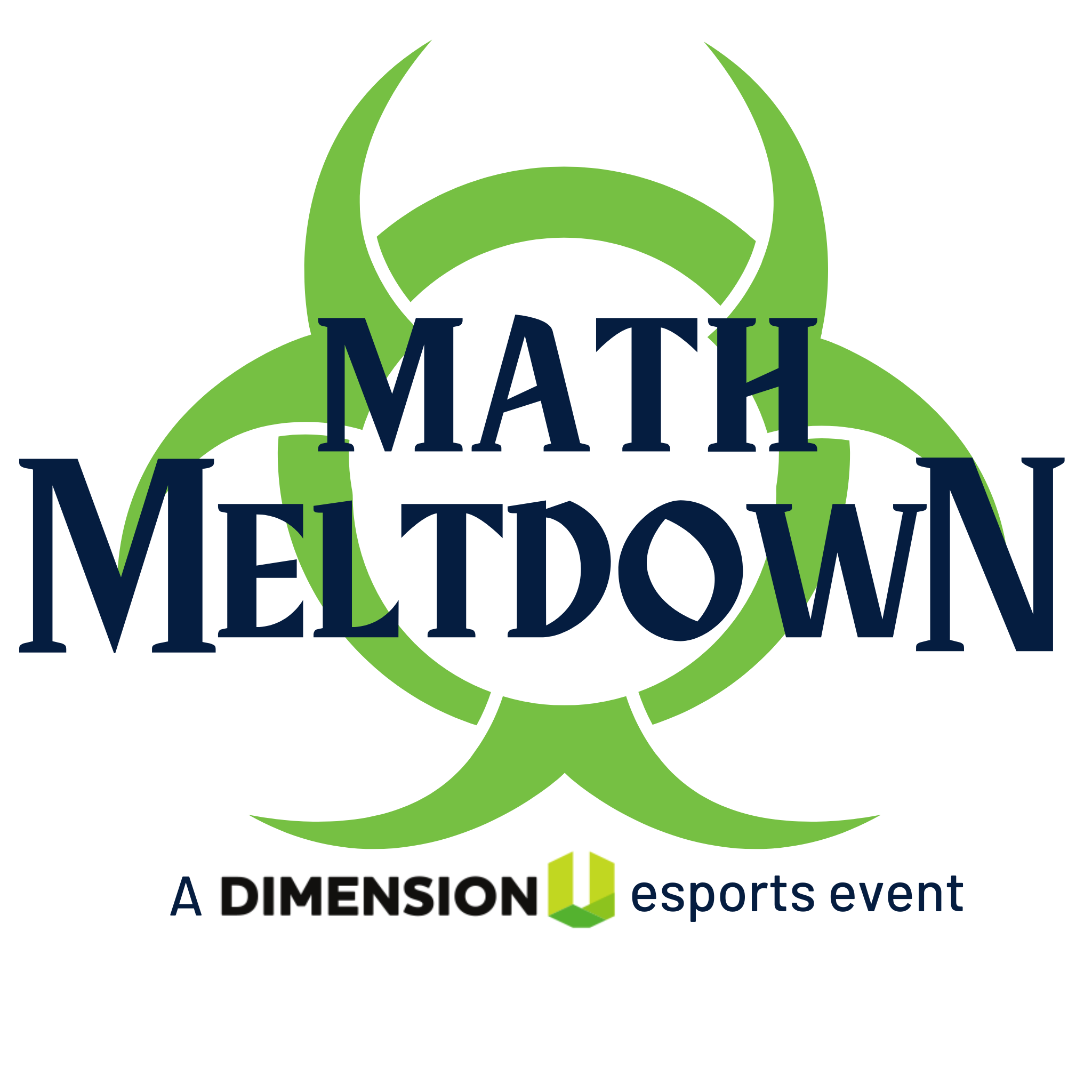 October 4–7, 2022
The MATH MELTDOWN is BACK!!! This FREE, VIRTUAL math-based esports event is exclusively for New Jersey High School students. The Math Meltdown will simultaneously challenge your gaming skills and your math skills—plus we'll award BIG PRIZES to the top point earners.
Powered by DimensionU. Sponsored by the U.S. Army.
About New Jersey High School Math Meltdown
The New Jersey High School Math Meltdown is an exclusive, virtual event for High School students (grades 9-12) in New Jersey. This virtual event will take place from October 4–7 when students will log into DimensionU with their free account and play our multiplayer math video games called Meltdown and TowerStorm. Students can participate any time during the day or evening—this does not need to be a class event. We'll track the highest points earned and the top 3 point earning students will win!
All content played during this competition is aligned to NJSLS curriculum, so you can be sure students are sharpening their math skills while having fun. Content will vary daily from Number & Operations, Algebra, Geometry, and Data Analysis & Probability.
About DimensionU
DimensionU's exciting first-person, multiplayer games reinforce math and literacy instruction for students in elementary through high school. Three games are playable on the web or via mobile apps. Each game allows access to all DimensionU curriculum levels, making it easy for students of varied grade and skill levels to "GET IN THE GAME" with one another. Playing DimensionU provides academic support and promotes strategic and critical thinking skills for students. DimensionU has a track record of helping improve student achievement. The company offers standards-aligned games that reinforce over 400 math and literacy skills. Students learn in an exciting, fast-paced and competitive virtual environment.
Frequently Asked Questions
Must I be a resident of New Jersey to take part in the New Jersey High School Math Meltdown?

You must attend a High School (grades 9-12) in the State of New Jersey to be eligible to participate.

Which DimensionU game will my free account allow me to play?

Your account will allow you access to all 3 DimensionU Games but only your points earned while playing Meltdown on Tuesday/Thursday and TowerStorm on Wednesday/Friday will count for the October 4–7 competition.

How long is my DimensionU account valid for?

Student accounts are valid as soon as the email address is confirmed and will remain active through October 10th, 2022.

Is DimensionU web and mobile friendly?

Yes! Visit us at www.dimensionu.com in your web browser or download the Meltdown app directly from your iOS, Android or Amazon device app store. For more information about our system and technical specifications, click here.

What math content should I be practicing?

You may practice in any level or topic you'd like, but the competition will pull from the following levels:

Level G
Level H
Level Algebra

Practice as much as you can in those areas to be prepared for the competition. For each competition day, DimensionU will lock your Meltdown curriculum, requiring everyone to play on mandatory tournament curriculum.

Are there any special network considerations for schools?

In some cases, access to DimensionU game servers may be blocked by a school or district. Please see our technical specification for a list of addresses that should be whitelisted. Please contact us at support@dimensionu.com with any questions.

Be sure to read through the complete Contest Rules and Terms and Conditions.

How do I know this competition is legit?

DimensionU has been in business since 2003, working with schools and districts nationwide. We've also been a partner with the US Army for several years and have conducted many educational esports competitions.

Read this article about our partnership with the U.S. Army.

If you'd like us to connect you with the US Army STEM Outreach office to verify the New Jersey Math Meltdown, please email us at tournaments@dimensionu.com.

Who should I contact with questions?

Email us at support@dimensionu.com.
Sponsored by